Drawing Ecologies/Kei Uta Collective team at Tukorehe Marae, Kuku, Horowhenua 11-16 February 2019
The 'Drawing Ecologies' wānanga brought a new iteration of the Kei Uta collective together. This expanding and contracting team of visual language experts were open to embracing the successful Mātauranga Māori research methodologies such as whakapapa (interconnected genealogies), hīkoi (walking talking meetings) and korero tuku iho (local oral narratives of place). To this end, over four days Huhana Smith walked this group through the lower reaches of the Ōhau River, the contiguous wetland projects across Māori shareholder farms, across dune ridgelines to beaches and to coastal protection projects, which are all within ancestral landscapes of great importance to hapū of Ngāti Tukorehe and other related hapū located towards Waikawa. We also stood on 1000 year old dunes systems on Incorporation of Ransfield's farm, we got hot and bothered in the Waikawa dunefields and cooled ourselves in the moana (sea) at Waikawa. We completed the last of our walks in the cooling forests surrounding Lake Waiwiri or Papaitonga, a remnant low land forest around a freshwater lake within sand country.
Back at the marae, extensive 'drawing as expanded practice' was undertaken during productive artmaking moments. The collaborative stencilled artwork led by Judy Watson (which is shown here in progress) focused on what is important to hapū – namely harvesting of tuna (eels) and inanga (whitebait).
While some 25 Māori and non Māori contemporary artists were invited, the final number was a good sized group whose expertise spanned indigenous culture and practice, tā moko, art, landscape architecture, design, nature and ecologies. Amongst the 12 artist participants were: Sean Bennett Ogden, Tipi Wehipeihana (alongside kuia Aunty Yvonne Wehipeihana-Wilson) from Kuku. Massey University's Emma Febvre-Richards, Huhana Smith, Jonathan Kay, Marilyn Jones and Maria O'Toole worked alongside Martin Bryant and Louisa King (University Technology, Sydney), Monique Jansen and Carl Douglas (AUT), and the invited Government House Matairangi Mahi Toi international residency artists - Frances Whitehead (Chicago, USA), Tania Kovats (Bath Spa, UK) and Amel Nafti (Valence, France). Indigenous artist and Waanyi woman Judy Watson (Brisbane/Griffith University) also responded to the recent research findings of Phase 1 (2015-2017) and Phase 2 (2017-2019) Deep South Vision Mātauranga projects.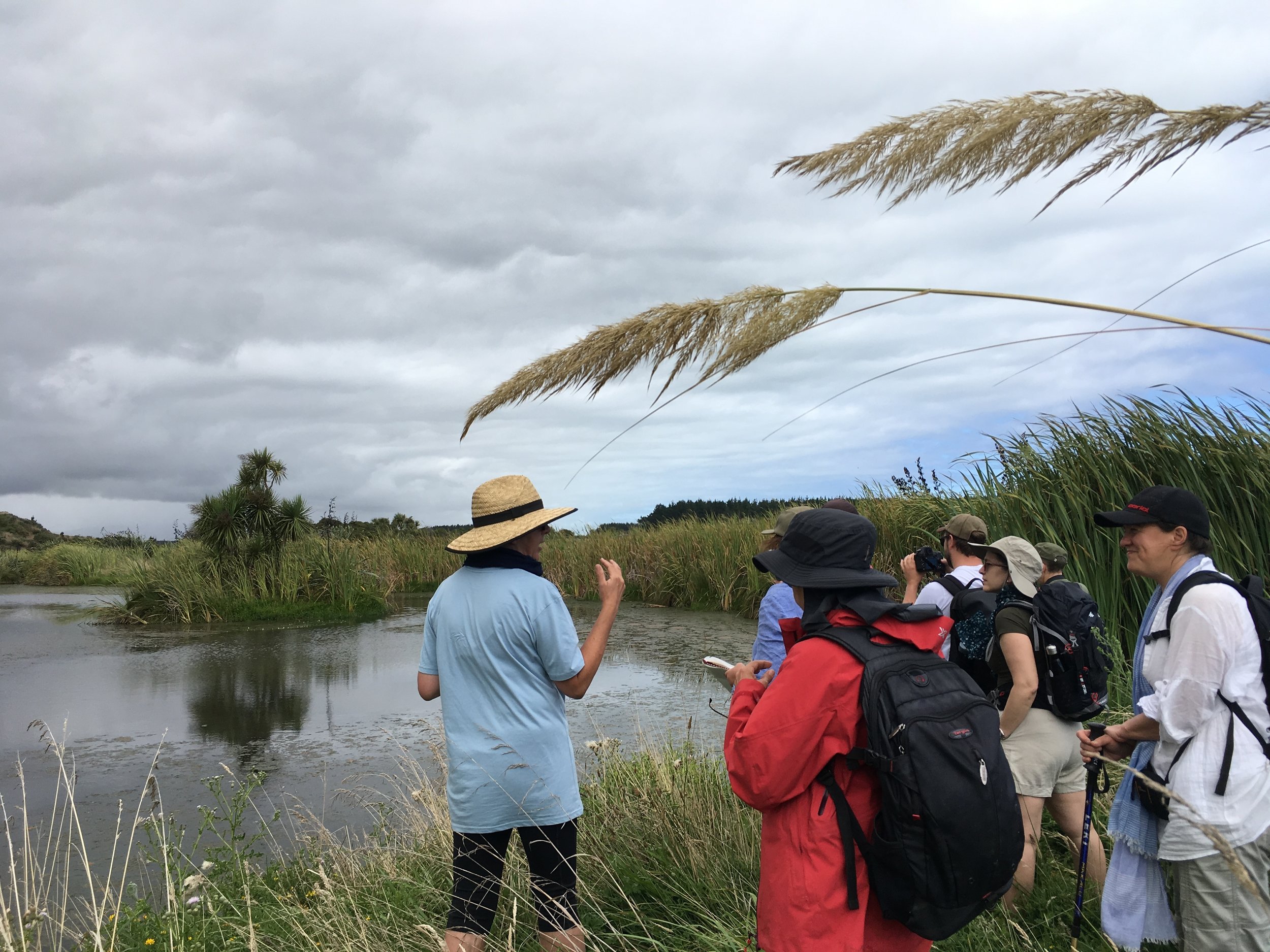 Photos by Huhana Smith and Monique Jansen, 2019